Are twins really twice as nice? Absolutely! But what about two pairs of twins? Right now, I can almost hear the whispers of parents all across the world warning, "Double trouble!"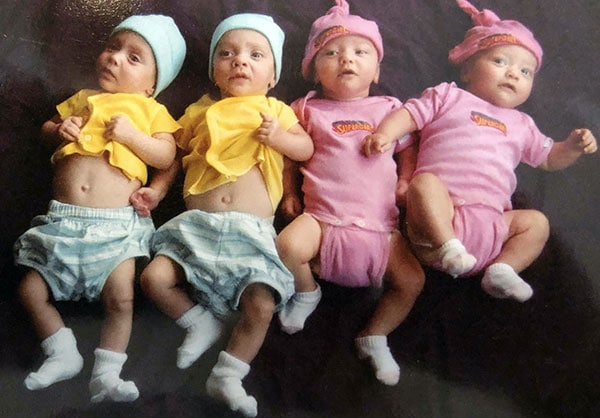 But then I see the smiling faces of these kids, and my heart melts. These are the real photos taken of two sets of identical twins – quadruplet siblings – whom I delivered 14 years ago. Twin boys and twin girls. That was then, and this is now.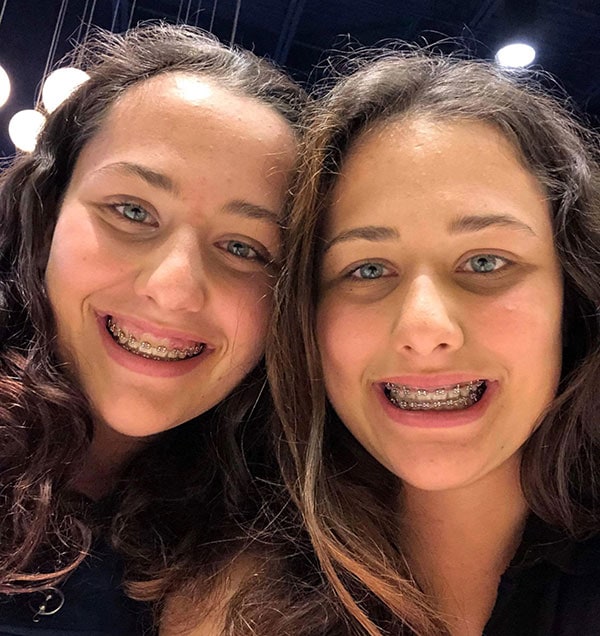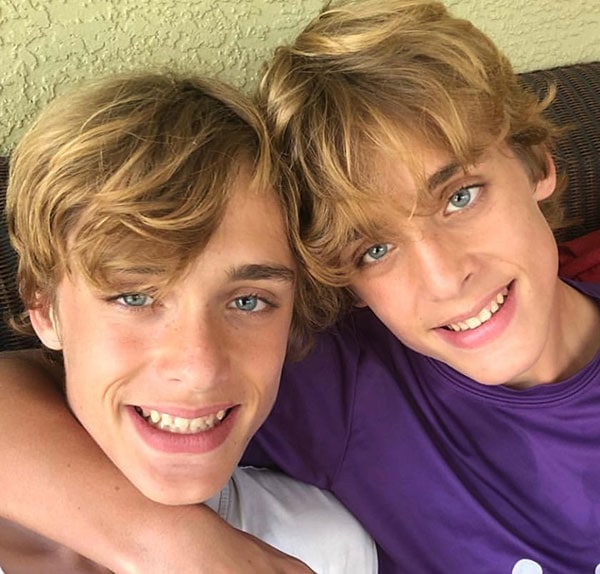 When I got these photos over the weekend, all I could think is, time sure does fly! I love getting these updates from my patients. It's like finding a time capsule and opening it up to get a little reminder of how much I love my work. Although if I'm being truthful, these four are pretty hard to forget!
It's not every day you deliver a multiple pregnancy but they are becoming more common. You can't always count on singles, so here's some important information to consider if you're planning on having children.
What is a multiple pregnancy?
When you're having twins, triplets, quadruplets, or more, we call that a "multiple pregnancy." This just means that there's more than one fetus occupying the womb at the same time.
Multiple fetuses may come from the same egg, or from different eggs. This factor will determine if your babies will be identical or fraternal.
Identical: With identical babies, one egg is fertilized by one sperm. Then, that egg splits, forming two or more embryos with the same DNA. These babies will look identical, be the same sex, and have the same blood type.
Fraternal: Fraternal babies come from different eggs, each fertilized by different sperm. The embryos won't be genetically identical, but they will bear a family resemblance, just like regular siblings. They may not be the same sex or have the same blood type.
Why do some women have multiple pregnancies?
Identical fetuses occur more or less at random. Experts haven't been able to pinpoint a clear reason why some fertilized eggs split, and others don't.
But fraternal babies are a whole different story! Fraternal multiples do have a strong genetic component, relating to a gene that causes women to hyper-ovulate – meaning, release more than one egg during ovulation. You're more likely to have a multiple pregnancy if:
You've been pregnant with fraternal twins at least once before.
You have fraternal twins on your mother's side of the family.
You're of African heritage.
You can also increase your chances of having multiples if you:
Use IVF or other fertility treatments.
Have just quit using hormonal birth control pills.
Get pregnant over the age of 34.
According to the CDC, multiple pregnancies are on the rise. In 1980, one out of every 53 babies was a twin. Compare that to 2009, when one out of every 30 babies was a twin. Rates have skyrocketed by a staggering 76%!
Experts believe this trend has to do with the age of new moms. Women are having their first child later and later in life; and when they do, many women choose fertility treatment to help with the process. Both of these factors – age and fertility drugs – increase the likelihood of a multiple pregnancy.
What are the risks of a multiple pregnancy?
Pregnancy can be riskier for moms who are carrying more than one baby at a time. It's important to speak with your doctor about your personal health and your family's medical history, and keep all of your prenatal appointments. Having multiples can increase your risk of:
Gestational diabetes. This is a type of diabetes you can develop during pregnancy.
Preeclampsia. This condition causes your blood pressure to rise to dangerous levels, putting your health and the babies' at risk.
Pre-term birth. Infants born before they've had time to fully develop may have serious heart, lung, eye, or brain abnormalities.
Low birth weight. A majority of multiple babies are born at a low birth weight.
Miscarriage. One or more fetuses may be lost during the pregnancy.
Certain genetic disorders. Some chromosomal birth defects are more common in multiple pregnancies.
You should be aware of these risks, but there's no need for alarm. Most moms carry their multiples to term safely and give birth to beautiful, healthy babies.
Do you have a favorite set of twins, triplets, or quadruplets in your life? We'd love to hear about them! Post your favorite multiple birth stories in the comments.
About Dr. Aliabadi
As one of the nation's leading OB/GYN's, Dr. Thaïs Aliabadi offers the very best in obstetrics and gynecology, including telehealth appointments. Together with her warm professional team, Dr. Aliabadi supports women through all phases of life. She creates a special one-on-one relationship between patient and doctor.
We invite you to establish care with Dr. Aliabadi. Please click here to make an appointment or call us at (844) 863-6700.
We take our patients' safety very seriously. Our facility's Covid-19 patient safety procedures exceed all CDC and World Health Organization recommendations. Masks are required in our office at all times during the coronavirus pandemic.
The practice of Dr. Thais Aliabadi and the Outpatient Hysterectomy Center are conveniently located for patients throughout Southern California and the Los Angeles area. We are near Beverly Hills, West Hollywood, Santa Monica, West Los Angeles, Culver City, Hollywood, Venice, Marina del Rey, Malibu, Manhattan Beach, and Downtown Los Angeles.

Latest posts by Dr. Thaïs Aliabadi
(see all)