Acupuncture's efficacy has always been somewhat debatable in certain circles, some people swear by it, others think it does not work. It has been proven effective for many for certain conditions and ailments, but for some others, well, not so much.  And now let's add its use in conjunction with in vitro fertilization to the "doubting side" of the positive/negative checklist. Here's why…
A new study says if you're undergoing IVF, acupuncture won't help you get pregnant
Researchers on both sides of the issue concur that acupuncture is generally harmless. And just about everyone agrees that acupuncture enhances relaxation, lowers stress levels, and multiplies the body's supply of beta-endorphins (the hormones that improve mood and reduce pain). But when it comes to the question of whether acupuncture will help IVF get you pregnant, flip a coin. You can find a study that will support almost any perspective.
One recent study concludes that acupuncture won't increase the odds that your IVF process will result in a successful pregnancy. The study focused on data obtained from 16 fertility centers in Australia and New Zealand. While they were undergoing IVF, 800 women between the ages of 18 and 42 received either actual acupuncture or a placebo procedure.
Drumroll please… what the acupuncture and pregnancy study said…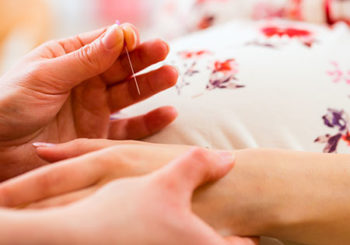 The results? 18.3% of the women who had real acupuncture achieved a full-term pregnancy. 17.8% of the women who received the placebo acupuncture had a full-term pregnancy. Statistically speaking, the .05% differential is meaningless.
However, all the women who took part in the study did receive some benefit. They reported feeling better and less stressed because of the acupuncture procedure. (But this beneficial result occurred whether their acupuncture was the real deal or the placebo.)
The study itself had some limitations. The researchers reported that the acupuncture (whether real or not) was administered during very limited time frames, either during ovarian stimulation or on the day that the embryo was transferred. In clinical practice, the acupuncture treatments would generally be administered more frequently and over a longer time span.
Caroline Smith, a leader of the research, remained a bit ambiguous. She said, "Although our findings do not support acupuncture as an efficacious treatment compared to placebo, some studies suggest reproductive outcomes may be improved when acupuncture is compared with no treatment."
The results of the Australia/New Zealand study correspond with the outcome of a 2013 study which covered about 4,000 women. That study also found that, when used as a complement to the IVF process, acupuncture does not boost pregnancy outcomes. But even that study's results were a little ambiguous. They did indicate that acupuncture improved the pregnancy rates at some IVF clinics with lower success rates.
There's some helpful news about acupuncture and pregnancy
Proponents of acupuncture did receive some encouragement on another front. The American Pregnancy Association reports that acupuncture can help resolve underlying conditions – such as thyroid problems – in women who are attempting to conceive.
Here's the breakdown of the study's result
Key points of the study
Question:  Does acupuncture increase the likelihood of a live birth in women undergoing in vitro fertilization?
Findings:  In this randomized clinical trial of 824 women, the rate of live births was 18.3% among women who received acupuncture vs 17.8% among women who received a sham acupuncture control, a non-significant difference.
Meaning:  These findings do not support the use of acupuncture when administered at the time of ovarian stimulation and embryo transfer to improve the rate of live births.
Abstract of the study
Importance:  Acupuncture is widely used by women undergoing in vitro fertilization (IVF), although the evidence for efficacy is conflicting.
Objective:  To determine the efficacy of acupuncture compared with a sham acupuncture control performed during IVF on live births.
Design, Setting, and Participants:  A single-blind, parallel-group randomized clinical trial including 848 women undergoing a fresh IVF cycle was conducted at 16 IVF centers in Australia and New Zealand between June 29, 2011, and October 23, 2015, with 10 months of pregnancy follow-up until August 2016.
Interventions:  Women received either real acupuncture or placebo acupuncture control. The first treatment was administered between days 6 to 8 of follicle stimulation, and 2 treatments were administered prior to and following embryo transfer. The placebo control used a noninvasive needle placed away from the true acupuncture points.
Main Outcomes and Measures:  The primary outcome was live birth, defined as the delivery of 1 or more living infants at greater than 20 weeks' gestation or birth weight of at least 400 g.
Results of the study
Among 848 randomized women:
24 withdrew consent
824 were included in the study (mean [SD] age, 35.4 [4.3] years);
371 [45.0%] had undergone more than 2 previous IVF cycles),
607 proceeded to an embryo transfer,
809 (98.2%) had data available on live birth outcomes.
Live births occurred among 74 of 405 women (18.3%) receiving acupuncture compared with 72 of 404 women (17.8%) receiving placebo control (risk difference, 0.5% [95% CI, −4.9% to 5.8%]; relative risk, 1.02 [95% CI, 0.76 to 1.38]).
Conclusions and relevance of the study
Among women undergoing IVF, administration of acupuncture vs placebo acupuncture at the time of ovarian stimulation and embryo transfer resulted in no significant difference in live birth rates.
These findings do not support the use of acupuncture to improve the rate of live births among women undergoing IVF.
Let me know what you think!
Thais
About Dr. Thais Aliabadi
As one of the nation's leading OB-GYNs, Dr. Thaïs Aliabadi offers the very best in gynecological and obstetric care. Supported by her warm professional team, Dr. Aliabadi treats women through all phases of life and fosters the special one-on-one relationship between patient and doctor.
We invite you to establish care with Dr. Aliabadi. Please click here to make an appointment or call us at (844) 863-6700.

Latest posts by Dr. Thaïs Aliabadi
(see all)