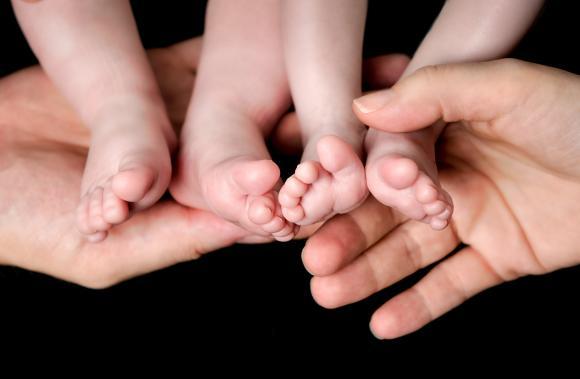 Assisted reproductive technologies are not the sole cause of multiple births — naturally occurring multiple births due to women delaying motherhood and choosing to have children later in life is responsible for a growing percentage of multiples.
Last August, we noted that an increasing number of women are either delaying motherhood or avoiding it altogether. The causes of this growing trend include:
A marked scarcity of good young men (the ones who might mature into good fathers)
The ever-increasing costs of rearing children
Staggering loads of student debt
A widespread lack of paid maternity leave
Discrimination against mothers in the workforce
All these factors have caused many working women to postpone childbearing.
Delaying motherhood can increase chance of having a multiple birth 
Now a new study from Brown University shows that multiple births are on an unprecedented increase. Twins, triplets, quadruplets, all the way up to the Octomom. (Remember her?) And that study also shows that delayed childbearing is a surprisingly significant cause of that increase in multiple births.
It almost seems like nature is responsive to pervasive human trends. The natural message here appears to be: "We need a steady supply of new humans. If you're not having any children early, you'll have to double up later."
Multiple birthrates have been consistently increasing in recent decades 
Until the 1980s, that rate held steady. There were about 20 multiple births per 1,000 live births. But from the 1980s to the mid-2010's, the multiple birthrate increased to almost 35 multiple births per 1,000 live births.
Assisted reproductive technologies, such as artificial insemination, in vitro fertilization (IVF), and medications that stimulate ovulation, have been commonly seen as the sole cause of this upswing in multiple births.
Reproductive technologies do produce multiple births 
IVF procedures utilize multiple embryos to increase the odds of achieving at least one successful implantation. The theory is that the more dice you roll, the better your odds of hitting a winning number. And the corollary of that theory is, the more embryos deployed in an assisted reproductive procedure, the higher the odds of a multiple birth.
But scientists at Brown University found that delayed motherhood also merits attribution as a significant factor in the increase in multiple births. Dr. Eli Adashi is a professor of gynecology and obstetrics at Brown's Warren Alpert Medical School. He initiated a research project by asking:
"Does the social phenomenon of delayed childbearing have an impact on the incidence of multiple births in the United States?" 
To answer that question, the Brown researchers analyzed birth statistics collected by the Center for Disease Control. CDC data compiled between 1949 and 1966 reflects a world without assisted reproductive technology. And the 1949 to 1966 data holds true today. By the time white women reach the age of 35, they are about three times more likely to have fraternal twins. African-American women have a higher natural propensity toward multiple births. 35-year-old black mothers are four times more likely to bear twins.
The study also analyzes the rates at which women have been delaying motherhood between 1971 and 2016. In those 45 years, the percentage of white mothers who were between 30 and 40 years old when they gave birth increased 22% (from 16% to 42%). The number of 30 to 40-year-old black mothers increased 17% (14% to 31%) over that same period.
It's long been known that the older a mother is at the time of giving birth, the more likely she is to have a multiple birth. Dr. Adashi even found a 150-year-old medical research paper that confirms that phenomenon.
The most significant (and surprising) conclusion of the Brown study is that, by 2016, a woman's decision to postpone motherhood was the sole reason for 24% of the multiple births among white women. Decisions to delay childbearing solely accounted for 38% of the multiple births among black women. In other words, women's choices to delay starting a family strongly contribute to the remarkable increase in multiple births since 1980.
According to Adashi, the study fully responded to its initiating question. "We showed that yes, indeed, not all the multiple births out there have to do with fertility drugs or in vitro fertilization. There's a sizable proportion of multiple births that are attributable simply to delaying childbearing," he said. "And the percentage of these spontaneous multiples seems to be growing."
Adashi added that the research into multiple births had two goals 
First, to promote understanding of the factors contributing to the surge in multiple births.
Second, to raise awareness of the risks inherent in delayed childbearing.
"People need to be aware of the increased risk of multiple births among the other more established concerns for advanced maternal age, such as Down syndrome, preterm birth, and preeclampsia," he said.
Be sure to consult with your doctor about starting a family at any age. Your obstetrician will help you determine the best course of action, especially if you're going to be an older mom. Let me know what you think! Thaïs
About Dr. Thais Aliabadi
As one of the nation's leading OB-GYNs, Dr. Thaïs Aliabadi offers the very best in gynecological and obstetric care. Together with her warm professional team, Dr. Aliabadi supports women through all phases of life. She fosters a special one-on-one relationship between patient and doctor. We invite you to establish care with Dr. Aliabadi. Please click here to make an appointment or call us at (844) 863-6700.
Read the full article at: news.brown.edu

Latest posts by Dr. Thaïs Aliabadi
(see all)