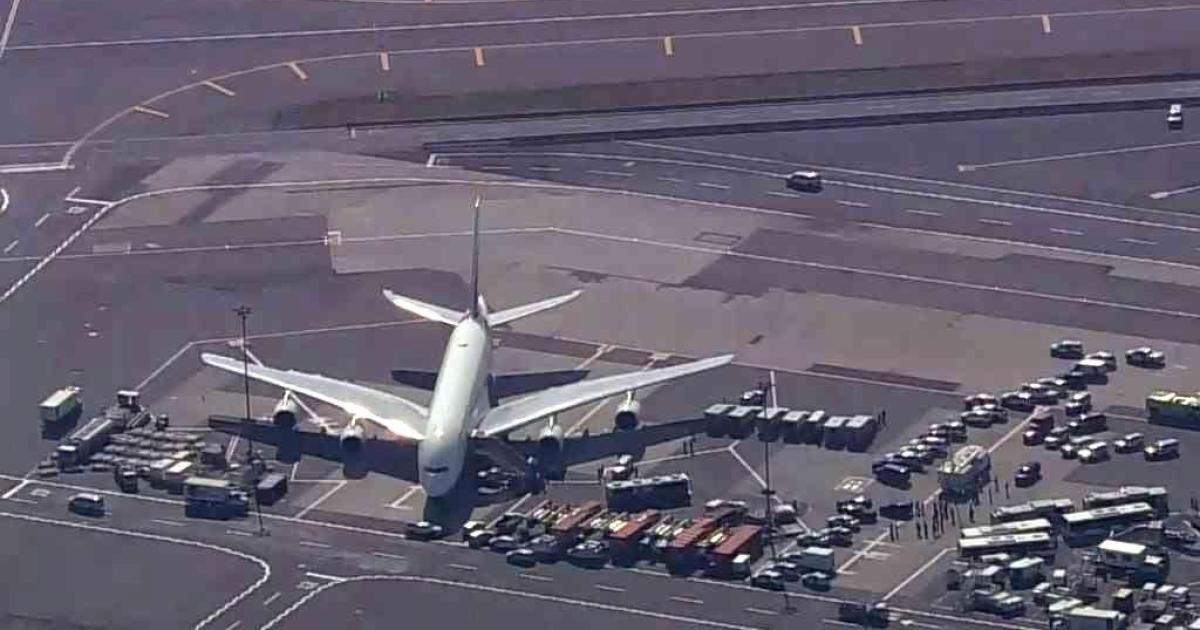 Video from news helicopters showed the Air Emirates jet sitting on the tarmac at JFK surrounded by ambulances, emergency vehicles and airport personnel when many people were reported sick on the flight
According to many, today's airliners are large flying tubes designed to rapidly spread infectious diseases to distant destinations. Now new evidence supports that dystopian theory.
Shortly after an Air Emirates flight from Dubai landed in New York last week, three passengers and seven crew were hospitalized with respiratory illness. More than 100 other passengers on the flight reported symptoms such as coughing, fever, or vomiting. The Centers for Disease Control promptly responded. The CDC screened all the passengers at a "hard standing area" before any could proceed to the terminal. Most were released to continue their travels.
One of the plane passengers was Rob Van Winkle, a.k.a. Vanilla Ice, the former rapper who now hosts a home improvement show. He tweeted: "So I just landed from Dubai and now there is like tons of ambulances and fire trucks and police all over the place." Another passenger reported that, "It was so obvious that a large number of people were ill well before takeoff. They should never have been allowed on board."
Danger of contracting an illness during air travel is no surprise
There were 500 passengers aboard that Air Emirates flight. It was a statistical near certainty that some were ill. For the next several hours they were all breathing the same recirculated air. The crew members were moving around on the plane, thereby more thoroughly exposing themselves to whatever was being transmitted.
A recent study published at BMC Infectious Diseases notes that, "The continuous growth in air travel increases the likelihood of rapid spread of infectious diseases between countries and continents. In 2003 air travel made possible the rapid spread of Severe Acute Respiratory Syndrome (SARS) between Hong Kong to several countries in a very short time, as was the case for the global spread of pandemic influenza from Mexico and the United States of America in 2009.
Symptomatic and asymptomatic respiratory tract infections are common among passengers, with potential for transmission to fellow passengers during pre-embarkation and travel, or after arrival at destination via multiple modes of transmission, including airborne, droplet and contact transmission."
The BMC report focuses on the "pre-embarkation" phase of air travel. The researchers collected surface and air samples at three different times from a variety of sites along the passenger flow pathways at Helsinki's Vantaa airport. The locations sampled included:
toilets
chairs in the waiting area
handrails on escalators and stairs
handles on luggage carts
elevator buttons
touchscreens on check-in consoles
the air in the security check area
Plastic bins at the airport are the worst germ-infested culprits
Surprisingly, the toilet areas produced no positive samples. The second most dangerous samples came from plastic toys in the children's playground. Of all the sites tested, the plastic bins in which travelers put their carry-on items for x-ray examination presented the highest potential risk. Those seemingly innocuous plastic bins carried adenovirus, influenza A, rhinovirus, and human coronavirus OC43. Because it's almost impossible to avoid handling those plastic bins, you might consider using sanitizing wipes to cleanse your hands after retrieving your items.
Making a case for air travel with antibacterial wipes
As you board a plane, you might consider being well armed with lots of sanitizing wipes. Here's why.
Once you're in the plane, the biggest germ threat comes from the pockets on the back of the seat in front of you. They seem to be used more as trash bins than for storage. Virus laden items such as used tissues, fingernail clippings, and even dirty diapers show up in those pockets. Don't even bother with the in-flight magazine.
It's relatively simple to avoid using those storage pockets, but the lavatories are another story. Unlike the restrooms in the terminal, the plane's lavatories are also germ infested. Again, copious use of antibacterial wipes is recommended.
Another potentially hazardous item is the fold-down tray. Because it's impractical to eat a meal or do a crossword puzzle on your lap, you might consider swabbing those trays with some of your dwindling supply of sanitizing wipes.
When you're aware the blankets and pillows provided by your friendly flight attendant are reused flight after flight, you might be encouraged to bring your own.
The touchscreen entertainment system is, by definition, touched by the hands of prior passengers. Who knows where those hands have been before they touched the screen? Sanitize, sanitize.
When you become fully cognizant of the array of germs and viruses waiting to attack you, from the time you enter your departure terminal to the time you exit your arrival terminal, it may not seem quite such an unforgivable fashion choice to wear a mask and don disposable gloves. Just saying. Let me know what you think. Thaïs
About Dr. Thais Aliabadi
As one of the nation's leading OB-GYNs, Dr. Thaïs Aliabadi offers the very best in gynecological and obstetric care. Together with her warm professional team, Dr. Aliabadi supports women through all phases of life. She fosters a special one-on-one relationship between patient and doctor. We invite you to establish care with Dr. Aliabadi. Please click here to make an appointment or call us at (844) 863-6700.
Read the full article at: www.cbsnews.com

Latest posts by Dr. Thaïs Aliabadi
(see all)