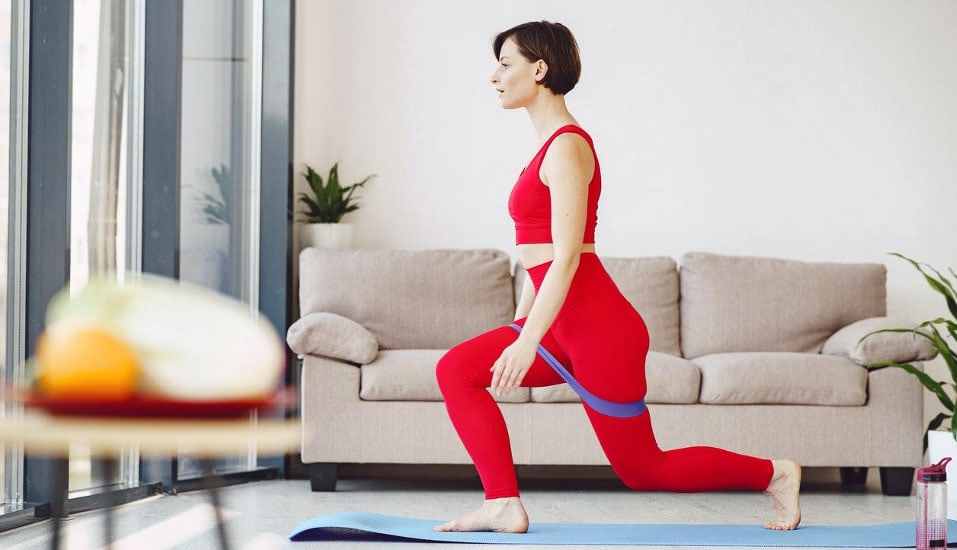 If 2020 taught us anything, it's that good health shouldn't be taken for granted.
Not only does good health protect against illness, but the way women treat their bodies day-to-day also defines how they feel as they grow older. That's why it's so important for women to adopt habits that are both healthy and sustainable. If you already eat right and exercise daily, what more can you do to care for your body?
1. Sit less, stand more.
Dr. Aliabadi has written previously about the consequences of sitting in a chair all day. You might not be able to avoid long hours at the desk, but you can alternate between sitting and standing with an electric desk that goes up and down at the push of a button. Stretching and movement breaks are also important for anyone who works at a desk. There are lots of great apps that will remind you to get up and move.
2. Fine-tune your diet.
Eating a balanced diet doesn't guarantee your body receives all the nutrients it needs. Whether you're premenopausal, pregnant, or over 50, women have special nutrient needs that can be difficult to meet through diet alone. These include iron, calcium, folic acid, and vitamins D and B12.
A quick blood test can tell your doctor if you're deficient in key nutrients and determine the proper amount of supplementation. There are also supplements women can add to their diet to promote overall health and wellness. Collagen, for example, is a popular skin supplement that's also beneficial for skin elasticity, bone density, and cartilage and joint health. Many older women also benefit from pre-and probiotics to boost vaginal, urinary, and digestive health.
3. Keep an eye on alcohol.
Wine o'clock is trending, and so is women's alcohol consumption. Alcohol-related deaths are on the rise among middle-aged women. Even if drinking isn't causing problems in your everyday life, it could be silently harming your health.
Take an honest look at your alcohol consumption this year. Are you enjoying the occasional drink, or are you self-medicating stress and anxiety with alcohol? Pouring a glass of wine is an easy way to unwind, but there are healthier ways to manage stress.
4. Mind your skin.
Spending time outdoors is one great way to lift your spirits, but all that sunshine comes with a dark side. Skin cancer is a leading cause of cancer, particularly among fair-skinned women. You hopefully ditched the tanning bed for sunless tanning years ago, but it's still important to perform regular skin exams and talk to your doctor about any unusual changes. Time your monthly skin and breast exams together so it's easy to remember.
Does your skin seem to stay dry no matter how much you moisturize? Dry skin is a common challenge for older women. In addition to going fragrance-free with skincare products, using a humidifier indoors (especially in winter) is a no-fuss solution for supple skin.
5. Know your genes.
Good skin care and sun protection habits protect against some skin cancers, but not all. 10% of melanomas are caused by genetic mutations on the CDKN2A or BAP1 genes, according to the American Academy of Dermatology Association. Genetic testing can tell you if you carry one of these mutations or similar mutations linked to breast, ovarian, uterine, endometrial, and colorectal cancers. While genetic testing can't say for certain whether you'll develop cancer, it is one of the simplest things you can do to plan for your future health whether you're starting a family or just growing older.
Genetics play a big role in women's health, but so does the way you care for your body. This year, take charge of your health by learning your risk factors and developing habits that support a healthy body day after day, year after year. For more tips on creating a healthier you in 2021, view the latest posts at Dr. Aliabadi's Women's Health Blog.
About Dr. Thaïs Aliabadi
As one of the nation's leading OB-GYNs, Dr. Thaïs Aliabadi offers the very best in gynecological and obstetric care. Together with her warm professional team, Dr. Aliabadi supports women through all phases of life. She fosters a special one-on-one relationship between patient and doctor.
We invite you to establish care with Dr. Aliabadi. Please click here to make an appointment or call us at (844) 863-6700.
We take our patients' safety very seriously. Our facility's Covid-19 patient safety procedures exceed all CDC and World Health Organization recommendations. Masks are required in our office at all times during the coronavirus pandemic.
The practice of Dr. Thais Aliabadi and the Outpatient Hysterectomy Center is conveniently located to patients throughout Southern California and the Los Angeles area. We are near Beverly Hills, West Hollywood, Santa Monica, West Los Angeles, Culver City, Hollywood, Venice, Marina del Rey, Malibu, Manhattan Beach, and Downtown Los Angeles, to name a few.