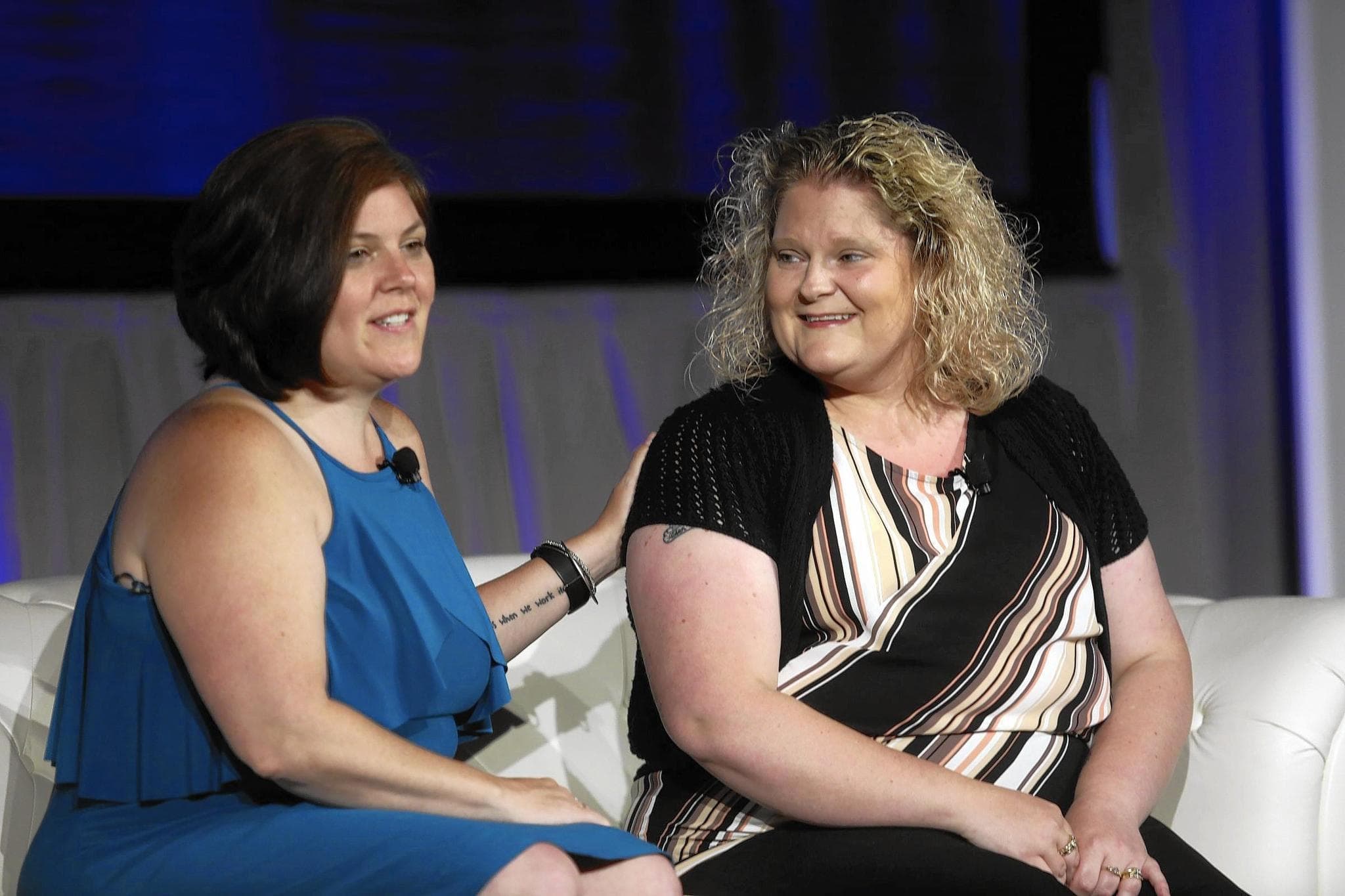 Louise Brown, the world's first baby born via in-vitro fertilization, and Elizabeth Carr, America's first IVF baby, compared memories at a Chicago event.
Before 1978, couples struggling with fertility had few viable options available to them. But in 1978, everything changed when Louise Brown was born in England, the world's first birth with the help of in vitro fertilization (IVF). This is where conception occurs in a laboratory instead of a mother's womb, hence the term "test tube baby."
In 1981, Elizabeth Carr became the first baby in the United States to be born after being conceived via IVF.  During the intervening years, IVF has become routine, with over one million previously infertile couples able to give birth in the U.S. alone.
Finally, two of the first test tube babies met for the first time at a reproductive symposium in Chicago.
On June 16, 2017, Louise and Elizabeth met and bonded immediately at how the circumstances of their birth dramatically shaped their childhood experiences.
It may be difficult to imagine just how sensational the origins of Elizabeth and Louise were treated by the public almost 40 years ago.  Elizabeth, who lives in Boston and has children of her own, attended her first news conference when she was a mere three days old. Louise, also now a mother, appeared all over American television and magazines before her first birthday.
Their first meeting was highly emotional as they shared memories of early and lasting fame. They both grew teary eyed as they hugged on stage. "I think Louise is probably the only other person in the entire world who understands what this wacky life is," said Carr.
Time marches on and so do advances in IVF!
Since Brown and Carr were born, IVF techniques have vastly improved. In the early years, embryonic fragility required transfers of several embryos, often leading to premature and high-risk multiple births. New technology has created stronger embryos, so today only one embryo is usually transferred. This is great for parents who no longer need to fear having eight children at once. This is, of course, very disappointing for the tabloids who love writing about Octomoms and the like.
Do great social risks come with great advancements?
With newer developments in IVF, embryonic screening to eliminate many diseases and chromosomal abnormalities has become commonplace and is not controversial to most.
But new frontiers, including the creation of embryos from skin cells and the manufacture of artificial wombs, could be the source of great ethical debate. They may become wonderful advances, but they could also go awry; we just don't know yet.
It's not technically inconceivable that someday an infant could be conceived, go through gestation and be born, all without ever being inside of a biological mother. Though these new advancements may become possible, is it ethical or even a good thing for humanity to embrace? Can we ever really stop science? Is this scary stuff to you?
Let me know what you think!  Thaïs
Read the full article at: www.chicagotribune.com
Save

Latest posts by Dr. Thaïs Aliabadi
(see all)
Reader Interactions