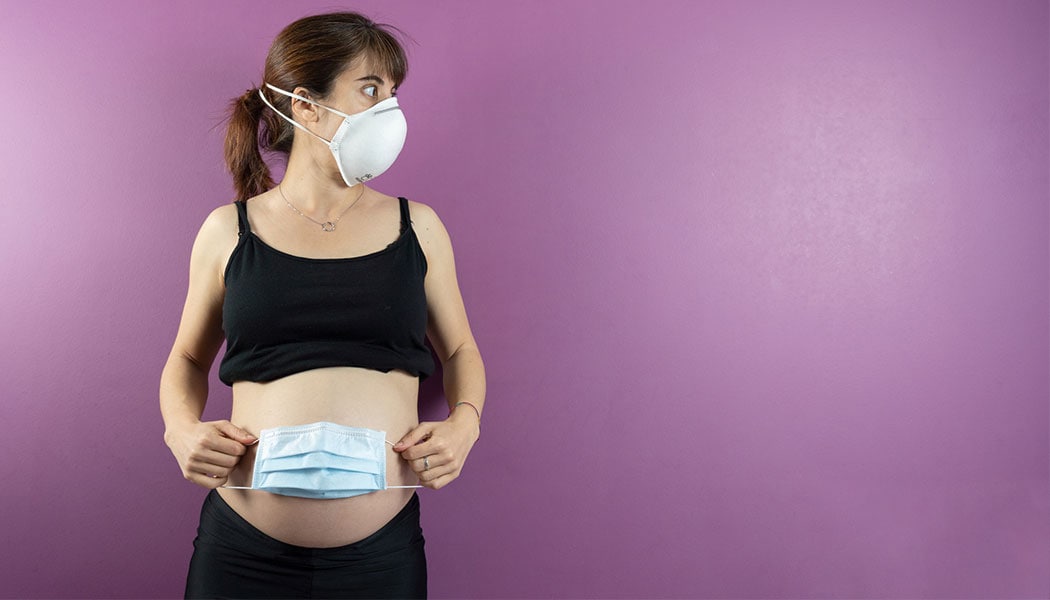 Back in June and July of this year, we published a few articles about the impact of Covid-19 on pregnancy. 
In those articles, we shared the available knowledge about the relationship between coronavirus disease and pregnancy. We also acknowledged just how little solid information was then available on the interaction between Covid-19, pregnant women, and their developing fetuses.
Well, in the interval between last summer and now, a lot more research has produced a lot more data.
The new news on pregnancy and Covid-19 isn't good news
The new data on the spread of Covid-19 among pregnant women are not encouraging. Thankfully effective vaccines are now on the horizon.
The new information makes it even less elective that pregnant people wear a facemask, maintain social distancing, practice rigorous handwashing, and protect themselves from close contact with infected family members. 
Coronavirus has a higher risk of severe illness and death for pregnant women
Long before the advent of the pandemic, public health experts in the US knew that pregnancy boosts the risk of dire consequences from respiratory viral infections.
During the H1N1 flu epidemic of 2009, pregnant women comprised 5% of US deaths, although they were only about 1% of the population.
Another study found that pregnant women with SARS (Severe Acute Respiratory Syndrome, which is caused by a virus closely related to the current novel coronavirus) were at greater risk for admission to an intensive care unit than were nonpregnant women with the same disease. 
The Covid-19 pandemic follows the same high-risk pattern as the H1N1 flu and SARS
A pair of reports released earlier this month from the Centers for Disease Control and Prevention (CDC) show that pregnant women infected with the coronavirus are more likely to become severely ill than nonpregnant women with Covid-19.
Those pregnant women with Covid-19 are also at an increased risk of miscarriage, premature delivery, and/or delivery via a C-section.
We need to emphasize here that the overall risks of severe illness and death remain low, for both pregnant women with a coronavirus infection and nonpregnant women with the virus. But pregnancy does significantly increase the risk of severe illness.
In one of the new CDC studies, researchers reviewed data derived from the case reports of 409,462 women of reproductive age (between 15 and 44) who had symptomatic cases of Covid-19. 23,434 of those women were pregnant.
After extraneous factors were eliminated, the research team found that the medical condition of slightly over 1% (10.5 per 1000) of the pregnant women required hospitalization in an ICU.
However, among the nonpregnant women with Covid-19, only 0.39% (3.9 per 1000) required intensive care. So being pregnant appears to increase the odds of needing intensive care by about 260%. 
A separate study from the CDC shows that the rate of preterm births (when a baby is born before 37 weeks of pregnancy) is 12.9% among pregnant women with coronavirus, compared to 10.2% among pregnant women without Covid-19. 
Symptoms of Covid-19 are different for pregnant women
OB/GYN researchers at UCLA and the University of California at San Francisco have started a nationwide registry of pregnant women with Covid-19. About 1300 have been enrolled so far. The project is tracking the prenatal care and progress of these women through every stage (the first trimester, second trimester, and third trimester) of their pregnancies. 
Among the study's findings thus far are that pregnant women with a Covid-19 infection tend to have different early symptoms than other Covid-19 patients: more cough and sore throat and less fever. Also, 25% of the women in the study still had symptoms after eight weeks. 
Why are pregnant women more vulnerable to severe Covid-19?
It's a three-part answer: 
 A woman's immune system is massively affected by pregnancy. These overwhelming hormonal changes expose pregnant patients to increased Covid-19 risk.

A woman's lungs and circulatory system are also greatly impacted by pregnancy. And the coronavirus's favorite places to attack a woman are her lungs and circulatory system. So the standard stresses, that are present in every pregnancy, make the coronavirus's primary points of attack hyper-vulnerable to Covid-19.

Pregnancy increases the risk of harmful blood clotting. And a symptom of Covid-19 multiplies that blood clotting risk.
Pregnancy compromises a woman's immune system
Viral infections, including Covid-19, tend to be more severe among pregnant women because a pregnant woman's immune system is altered to reduce the possibility of an anti-fetal immune response. 
In other words, the mother's immune system, which is designed to attack alien entities, is weakened in order to prevent a misdirected autoimmune attack on her baby.
Nevertheless, a woman's immune system is far from inactive during pregnancy. Significant autoimmune responses against a coronavirus infection are common. These counterattacks on the virus have the potential to cause collateral problems for the mother, for the fetus, and even for the attending healthcare providers.
Pregnancy overloads a woman's lungs and cardiovascular system
Even a normal and healthy pregnancy stresses the pregnant woman's lungs, heart, veins, and arteries.
The uterus' growth cramps the lungs. That's why pregnant women often experience shortness of breath.
And the fetus, of course, needs its own supply of oxygen
To meet the fetus' needs, pregnant women must generate extra oxygen. They also need to increase the supply of blood that carries that oxygen to the fetus. By late pregnancy, these requirements increase by 50%.
All these demands make a pregnant woman even more vulnerable to both lung disease and heart disease when Covid-19 launches its attack on the respiratory and cardio-circulatory systems. 
Pregnancy and Covid-19 both enhance risks from blood clotting
A pregnant woman's blood is a lot more likely to clot. This phenomenon is a natural response; it's designed to stop bleeding postpartum. But Covid-19 also causes blood to clot. This multiplied clotting can cause severe consequences, both for mother and child.
With all these risks, should childbearing be postponed?
A recent op-ed in the highly respected New England Journal of Medicine examines the question of whether health authorities in general and the CDC in particular, should recommend postponing pregnancy.
The question isn't new. It arose during the HIV epidemic, the 2009 H1N1 outbreak, and the Zika outbreak of 2016-17. In each context, concerns were raised about the moral censure of women, coercive policies, constraints on reproductive autonomy, and discrimination.
Contextualized counseling, what is it and how can it help?
After a lot of dispute, a multidisciplinary working group advised a policy of "contextualized counseling". Contextualized counseling allows for a thoughtful decision to proceed with family planning and pregnancy while acknowledging the known risks to women and their offspring from the current infectious disease. 
In all these crises, including the current pandemic, responsible advice, from clinicians and government alike, emphasizes the provision of comprehensive information about known and suspected risks, together with information about all the methods and protocols available to minimize those risks.
This advice and information should be provided without directive pressure so that a well-informed decision that addresses each individual situation can be reached.
By publishing this article, we hope that we have achieved at least some of those goals. For more individual contextualized counseling, please make an appointment with Dr. Aliabadi.
About Dr. Thaïs Aliabadi
As one of the nation's leading OB-GYNs, Dr. Thaïs Aliabadi offers the very best in gynecological and obstetric care. Together with her warm professional team, Dr. Aliabadi supports women through all phases of life. She fosters a special one-on-one relationship between patient and doctor.
We invite you to establish care with Dr. Aliabadi. Please click here to make an appointment or call us at (844) 863-6700.
We take our patients' safety very seriously. Our facility's Covid-19 patient safety procedures exceed all CDC and World Health Organization recommendations. Masks are required in our office at all times during the coronavirus pandemic.
The practice of Dr. Thais Aliabadi and the Outpatient Hysterectomy Center is conveniently located to patients throughout Southern California and the Los Angeles area. We are near Beverly Hills, West Hollywood, Santa Monica, West Los Angeles, Culver City, Hollywood, Venice, Marina del Rey, Malibu, Manhattan Beach, and Downtown Los Angeles, to name a few.

Latest posts by Dr. Thaïs Aliabadi
(see all)