ARVE Error: src mismatch
url: https://www.youtube.com/embed/MATxx7tD-vc
src in: https://www.youtube.com/embed/MATxx7tD-vc?feature=oembed&wmode=opaque
src gen: https://www.youtube.com/embed/MATxx7tD-vcActual comparison
url: https://www.youtube.com/embed/MATxx7tD-vc
src in: https://www.youtube.com/embed/MATxx7tD-vc?wmode=opaque
src gen: https://www.youtube.com/embed/MATxx7tD-vc

IKEA Discounts Cribs 50% for Pregnant Women. Saving Money is as Easy as One, Two, PEE!
You can probably use this IKEA ad as a pregnancy test, but we really, really would not recommend it until we get to test it. :)

Swedish furniture giant IKEA is never reluctant to innovate and they are no stranger to generating buzz with their advertising. But the brand's first viral ad of 2018 is unusual, even so.  The magazine ad, running in Sweden, encourages the reader to pee on it. If she does so, and is pregnant, the ad reveals previously invisible text offering a discounted price on a crib—using similar technology that pregnancy tests use to show a positive result.
Reaction has been mostly positive—the ad is undeniably clever, after all, and has gotten a huge amount of attention. On the other hand, isn't peeing on an ad a bit … gross?  Some think it is. Others, exaggerating just a bit, have suggested it's a sign of the end times (as if we needed more of those).  And of course, when objectively analyzed, it's really a free pregnancy test too!
Instead of peeing on a test strip, you pee on their ad in a magazine
IKEA's ad agency teamed up with a Swedish laboratory and created an ad campaign unlike any other. The team devised a way to treat a portion of an otherwise ordinary magazine page with the very same chemical which, when doused with the urine of a pregnant woman, turns blue.
IKEA's clever twist on a pregnancy test
Rather than just showing a blue line as an indication of pregnancy, the magazine page instead responds to the urine of a pregnant woman by revealing a steeply discounted price on an IKEA crib.
Of course, the test is taken and completed in the privacy of a home bathroom. You don't have to wave the proof positive pages to IKEA to receive the crib discount. Instead, any new enrollee in the IKEA Family program is eligible for the discount, including those who plan to adopt.
The whole point of the pseudo-sensational campaign is to introduce and promote "Where Life Happens". It's the current theme of IKEA's advertising campaign directed to folks living only in Sweden. The theme focuses on ordinary and relatable life situations, a category for which news of a new pregnancy definitely qualifies.
Jimmy Kimmel gets into the act
Not to be outdone by Swedish innovation, watch late-night host Jimmy Kimmel present his unique take on the more humorous side of the ad program.
Sometimes pregnancy and marketing are just plain fun! I wonder how many people are peeing on IKEA ads to save money they would otherwise spend at their local pharmacy? (Sorry, we couldn't help ourselves from making that (attempted) joke). I love the idea and maybe IKEA will bring the campaign to the U.S. Let me know what you think. Thaïs
Read the full article and analysis from the advertising world at AdWeek Magazine.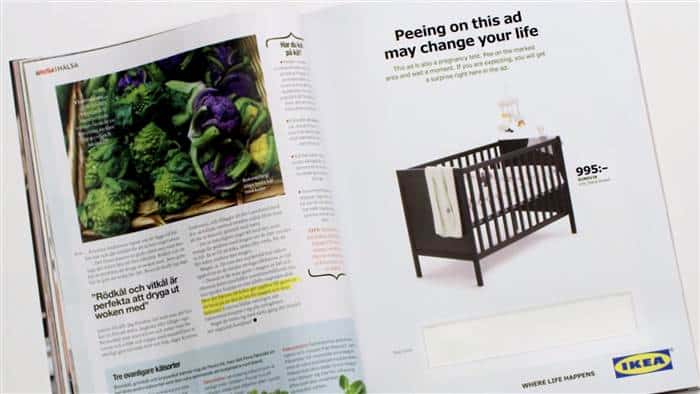 Latest posts by Dr. Thaïs Aliabadi
(see all)
Reader Interactions