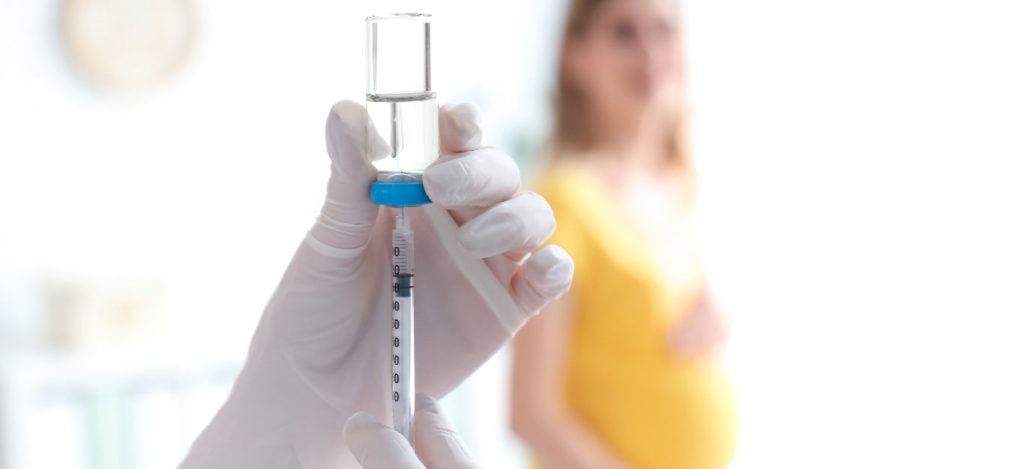 The flu season is in full swing and it's still not too late to get vaccinated. Among the active flu strains this year are H1N1 and A H3N2. Last year, when the more virulent A H3N2 was predominant, nearly 1 million people were hospitalized and as many as 80,000 died, according to the CDC.
So far this season the CDC says there've been 13 pediatric deaths from the flu. If you are pregnant, it's important for your own health as well as your baby's health that you get a flu shot.
Infants can't have a flu vaccination until they're six months old
Before the age of six months old, babies have not yet produced the antibodies necessary to support the protection provided by vaccination. For the longest time it was thought there was nothing you could do. That has all changed.
When you're pregnant, catching the flu can be a scary situation. Know that pregnant women who get a flu shot not only protect themselves, but also their developing baby.
Flu protection for a baby can be inherited from the mother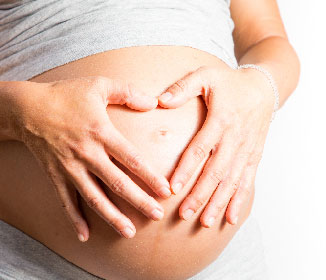 Recent research shows the human reproductive process can provide infants with hand-me-down protection against the flu. A very interesting 2016 study was funded by the Bill and Melinda Gates Foundation. It showed that infants born to women who received a flu shot during their pregnancy were protected against the flu. The mother's vaccine passed through the placenta and worked for the baby.
Those findings have now been confirmed and expanded by a recent American study. Researchers at the University of Utah School of Medicine focused on nearly 250,000 women who gave birth at Intermountain Healthcare hospitals in Utah and Idaho over nine flu seasons (2006-2014).
The study's results show that a pregnant woman who gets a flu shot, as strongly recommended both by Dr. Aliabadi and by the CDC, significantly reduces the likelihood her baby will suffer serious complications from influenza.
Upon entry to an Intermountain hospital in Utah or Idaho, each of the women involved in the study was asked if she had received a flu vaccination during her pregnancy. The children born to subjects of the study were then tracked for the first six months of their lives.
The results from babies whose mothers got a flu shot when they were pregnant are impressive
A baby born to a woman who had been vaccinated was almost 3 times less likely to suffer a "flu-like illness" than was the child of a woman who had not been vaccinated.
Immunizing pregnant women (as well as fathers-to-be and anyone else who will spend significant time around the baby) provides two separate modes of protection.
The caregiving partner is less likely to catch the flu and pass it on to the baby.
Studies show that the protective antibodies developed by mothers, in response to their own vaccinations, migrate through the placenta and into the fetus' bloodstreams. There they provide protection until the babies are old enough to receive their own vaccinations.
The increasing rate pregnant women are being vaccinated against the flu
In the initial stages of the study, only about 2% of the expectant mothers reported being vaccinated during their pregnancies. By the end of the study, after the pandemic flu seasons of 2009-2010 and 2013-2014, fully half of the pregnant women were reporting they had been vaccinated.
To insure the health of your baby, getting vaccinated is one more thing you can do. Just like taking vitamins, eating right, exercising, not drinking or smoking. If you are pregnant, or plan on trying to get pregnant, please talk to your doctor about getting a flu shot. According to the CDC, the flu season will peak late in February or March. Protect yourself and your baby!
About Dr. Thais Aliabadi
As one of the nation's leading OB-GYNs, Dr. Thaïs Aliabadi offers the very best in gynecological and obstetric care. Together with her warm professional team, Dr. Aliabadi supports women through all phases of life. She fosters a special one-on-one relationship between patient and doctor. We invite you to establish care with Dr. Aliabadi. Please click here to make an appointment or call us at (844) 863-6700.

Latest posts by Dr. Thaïs Aliabadi
(see all)