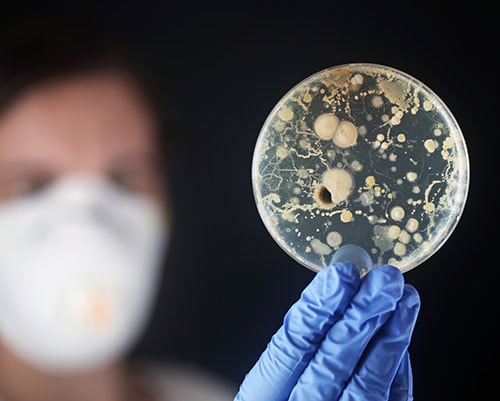 It's still sunny skies and warm weather here in SoCal, but cold weather blowing into the rest of the country means that flu season is upon us!
Sure, it might still feel like summer, but cold weather actually has very little to do with the sudden rise in sniffles and body temperature that we see in flu victims.
The flu is spread by a virus, and it's up to your body's natural immune response to fight the germs on contact. If your immune system is compromised at all, then you're more susceptible to the contagion.
Since L.A. is a prime travel spot for both business and pleasure, you would do well to watch out for an increase in germy traffic from across the globe. Germs thrive in the places you might least expect them. Watch for any spot in public that people have to touch with their hands.
Grocery stores. A new study from the University of Arizona found that about 70-80% of grocery carts had E. Coli on them. Surprising, but completely logical once you think about it. You've got the flu, now what do you do? Head to the store for tissues, medicine, and chicken soup! Carry some wipes, and don't forget the basket handles!
Restaurant tables. Remember your first busboy job? Turns out, that washrag isn't always clean. Dirty towels can transfer germs like E. Coli from table-to-table in a matter of minutes.
Public restrooms. Sure, the toilet sounds like the dirtiest spot, but what about the sink? Dirty hands are all over the faucet handles, and germs tend to stick around longer in the basin if it's not getting a thorough cleaning.
Libraries. One word: Keyboards.
Studies have shown that seniors skip their flu vaccination more than any other age group, with about one in three opting out.
However, with their compromised immune systems, men and women over age 65 account for the majority of flu-related hospitalizations, and about 90% of flu-related deaths, according to the CDC.
Thankfully, the flu vaccine is covered by Medicare, and many pharmacies and clinics offer immunizations for free or at low-cost. Read more about seniors and flu season here, and get yours before it's too late!

Latest posts by Dr. Thaïs Aliabadi
(see all)