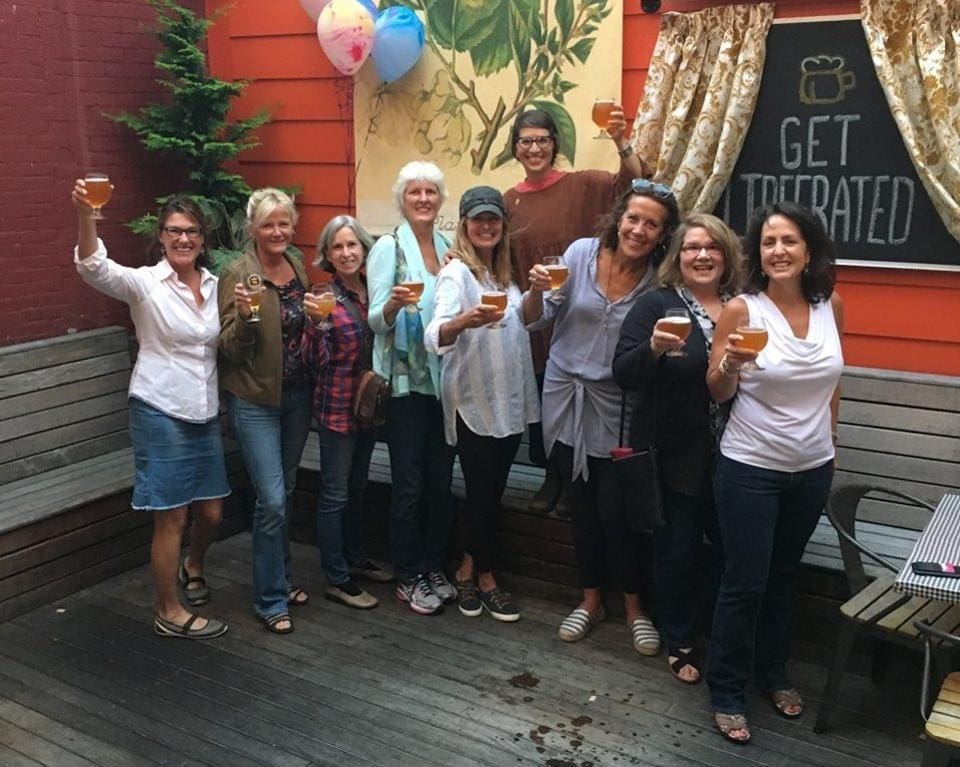 With plans for wider distribution, New Hampshire's original female brewery owner re-releases an ale designed to combat symptoms of menopause
A new beer out of the Portsmouth Brewery in New Hampshire is the first of its kind, designed to alleviate some of the most insufferable symptoms of menopause. Following the remarkable success of her first batch of "Libeeration," co-developer Joanne Francis launched a second run just this month, in collaboration with Smuttynose Brewing.
Libeeration, a beer designed for menopausal women
The idea was six years in the making, Francis says. As a chronic sufferer of migraines and Lyme disease, Francis has seen first-hand the benefits of alternative therapies, in addition to traditional Western medicine.
Seizing a gap in the beer market for older women, the vegetarian brewer thought, "Why can't we get something put together in a bottle that is going to help with menopause symptoms?"
And with that, Francis, 58, and head brewer Matt Gallagher got to work on devising the perfect recipe. They consulted with an herbalist, a kinesiologist, and a clinical psychologist, and finally pinpointed the 8 herbs that were likely to do the most good, and taste great, too. So what are these herbs, and what can they do for symptoms of menopause, you might ask?
We've got the low-down on the not-so-secret formula right here
Motherwort – Hot flashes and night sweats
Chamomile – Sleep troubles and mood swings
Lemon balm – Anxiety, stress
Mugwort – Anxiety, stress
Stinging nettle – Weight fluctuations and liver function, plus iron and calcium
Chickweed – Dryness and fatty build-up
Rose – Heart palpitations and skin toning
Damiana – Nervousness, libido
What flows from the tap is a golden-colored, dry-hopped, fruity-style ale. And how about drinkability? Well, the first batch, finished in October of this year, sold out within a week. Francis describes the ale as "fruity, spicy, earthy," and at 6% ABV, it's gentle enough on the liver, but not completely toothless.
And does it work?
Well, it depends on what you mean. Francis doesn't harbor any delusions about her beverage as a medicine. Unless you count the tastings by New England's choosiest hop heads, Libeeration hasn't undergone any kind of rigorous testing.
According to the North American Menopause Society, studies have shown that herbs are no more effective at reducing hot flashes than placebos. In fact, alcohol in excess can exacerbate symptoms, contributing to night sweats and difficulty sleeping.
Experts advise women to exercise moderation when drinking
There's no need for complete abstinence, but limiting your intake to one drink per day should keep most women on the right track. It's also worth noting that some herbs can interact with prescription meds. So before you go bottoms-up, you should do your research and check with your doctor to steer clear of any nasty side effects.
Francis is less interested in the efficacy of her beer as a treatment, and more interested in empowering older women to delight in a beer made especially for them. Sick of marketing to the typical 21-35 year old male market, she hopes her beer inspires other brewers to take female beer drinkers more seriously.
"We want to shift the mentality from focusing on the negative aspects of this stage in life, to celebrating the liberating aspects," she says on the brewery's website. "Fun, crazy, wildly different: that was our goal to reach women who truly know what it means to be hot!"
What a fun story! If you ever come across this beer, let me know how you like it.  Thaïs
Read the full article at: www.forbes.com

Latest posts by Dr. Thaïs Aliabadi
(see all)