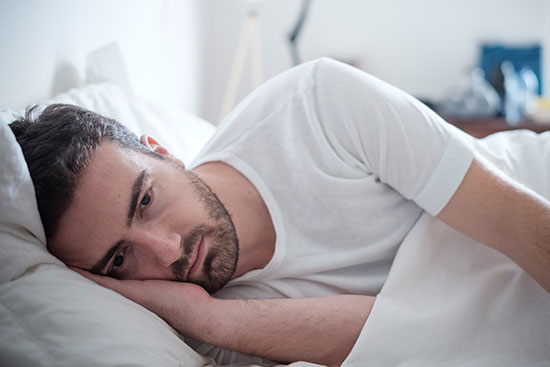 Becoming a parent is hard. Between the long, sleepless nights, interrupted routines, and more scares and uncertainties cropping up with each passing day, it's no small wonder that many new mothers experience the "baby blues."
But if your feelings of sadness and anxiety last longer than a few weeks, you might be suffering from post-partum depression.
Postpartum depression is real, and very common, affecting an estimated 10-20% of new moms. But did you know that men can suffer from post-partum depression, too?
It's true. Despite the radio silence about the issue, between 4-25% of new fathers experience may PPD, according to experts at the National Institute of Health.
Dad's Can Suffer From Postpartum Depression Too
Take it from Rob, a PPD survivor who started an online support group for new fathers struggling with depression. "Two weeks into my son's life, I was VERY sleep deprived, frustrated, and worried about being the best father I could be."
Rob and his wife invited friends and family over to see the baby, but when everyone left the house, he became overwhelmed by panic and anxiety. "A feeling of being left behind and trapped overcame me. It spiraled out of control, and I could not snap myself out of it."
The feelings affected his relationship with his wife and newborn son, too. "I pulled away mentally and physically from being a father and husband. I would cry uncontrollably at times. I felt extremely guilty."
For a diagnosis of PPD, new parents must experience a major depressive episode within the first month after the birth of a child. During this episode, the sufferer may experience:
Fatigue
Sleeping too much
Insomnia
Irrational anger
Hopelessness and depression
Weight loss or weight gain
Inability to focus
Suicidal thoughts
And, to make matters worse, a new father is 2.5 times more likely to develop PPD if their partner is also experiencing depressive symptoms, according to one study. This is why it is so important for both partners to watch for symptoms in themselves as well as each other in those first four weeks.
Not Just Mom's Hormones Can Change Postpartum
Although the particular cause of PPD can be varied and complex, one contributing factor is a change in hormones – and not just Mom's. New fathers see an increase in estrogen production when their child is born, and a decrease in testosterone. The same changes are found in the animal kingdom, among species who co-parent their young. These fluctuations can cause anxiety and irritability, and even affect the way you relate to your new baby.
Fathers suffering from PPD may withdraw from their parental responsibilities, neglecting to play with, talk to, or read to their child. In one study, kids parented by dads with PPD had trouble with language acquisition compared to their peers. Similarly, a lack of interaction between children and their fathers can increase the chances of behavioral issues.
Take your symptoms seriously. If you or your partner suffers from depressive symptoms, make an appointment with your OB-GYN or family doctor. Talk therapy can be surprisingly helpful for both you and your partner.
Rob decided to visit a psychologist. "It was the smartest decision I have ever done. I worked through my feelings and my false beliefs on how being a father should be, and realized that I don't have to have all the answers."
Find out more about post-partum depression in men at Fatherly.com.

Latest posts by Dr. Thaïs Aliabadi
(see all)