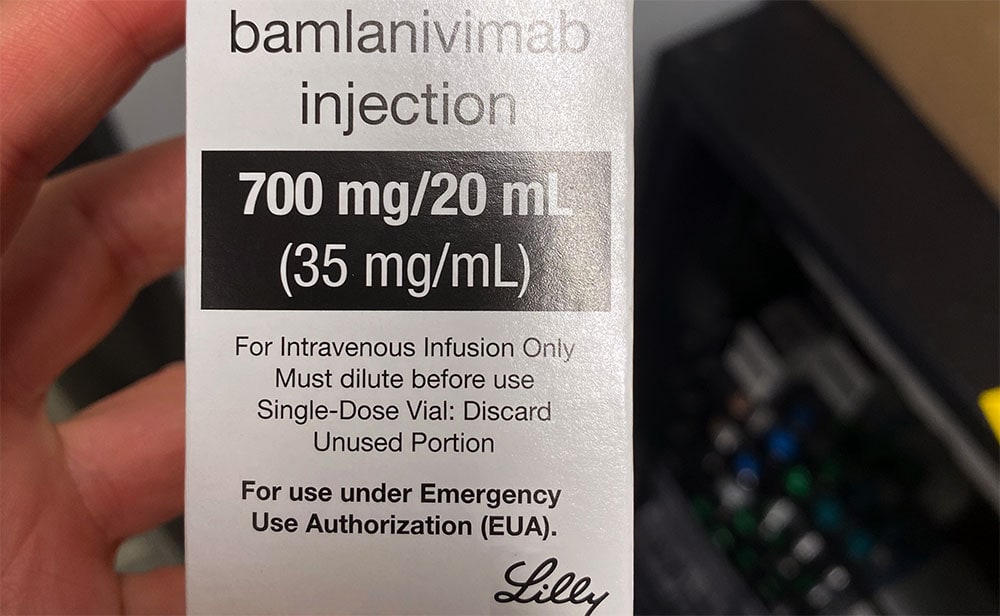 Last November, the US Food and Drug Administration (FDA), an agency within the US Department of Health and Human Services (HHS), issued an emergency use authorization (EUA) for a monoclonal antibody therapy that employs a substance known as bamlanivimab.
After it was discovered by the medical research company AbCellara, in conjunction with the scientists at the National Institute of Allergy and Infectious Diseases (NIAID), bamlanivimab was rapidly developed and tested in clinical trials by large drug company Eli Lilly.
Healthcare providers can now use bamlanivimab antibody therapy as a backup solution to the vaccination rollout.
What is bamlanivimab?
Bamlanivimab was initially identified in a blood sample taken from one of the first US patients who recovered from Covid-19.
Bamlanivimab is a recombinant neutralizing human monoclonal antibody, directed against the spike protein of the coronavirus. It is designed to support the immune system and prevent the virus from using its spike protein to gain access to human cells. This blocking action neutralizes the virus, potentially providing effective treatment against Covid-19
Eligibility fact sheet for Covid-19 patients
It is important to note that the FDA's emergency use authorization allows bamlanivimab to be administered only to patients who have been recently diagnosed with mild to moderate Covid-19. Eligible patients must be 12 or older, weigh at least 40 kg (about 88 pounds), and be at high risk for progressing to severe disease and/or hospitalization.
Patients considered to be at high risk have at least one of the following characteristics:
Overweight (a BMI of 35 or more)
Chronic kidney disease
Diabetes
An immunosuppressive disease
Currently receiving immunosuppressive treatment
Aged 65 years or older
Patients 12-17 years of age are eligible if they have at least one of the following:
Bodily mass index at or above the 85th percentile for their age and gender
Sickle cell disease
Congenital or acquired heart disease
Neurodevelopmental disorders, such as cerebral palsy
A medical-related technological dependence, such as tracheostomy, gastrostomy, or positive pressure ventilation, not related to the Sars-Cov-2 virus
Asthma, reactive airway, or another chronic respiratory disease that requires daily treatment
Patients younger than 12 years old, who weigh at least 40 kg and have at least one of the criteria listed above, are also considered to be at high risk for progressing to severe Covid-19 and/or hospitalization. Therefore, they are potentially eligible for bamlanivimab treatment.
Bamlanivimab is not a treatment for hospitalized Covid-19 patients
Bamlanivimab is associated with worse clinical outcomes when administered to hospitalized patients with Covid-19 who require high flow oxygen or mechanical ventilation. Bamlanivimab is therefore not authorized for use in patients who are hospitalized or require oxygen therapy due to Covid-19.
Eli Lilly is currently conducting testing on bamlanivimab in long-term care facilities, where it's showing promise for public health as a preventative measure–a sort of Covid-19 vaccine–in addition to its use as a therapeutic treatment.
Dr. Aliabadi incorporates the administration of bamlanivimab into her practice
If you have been diagnosed with Covid-19 within the last 10 days and believe that you satisfy any of the additional requirements, contact our office to determine both your eligibility for and the advisability of bamlanivimab treatment for you.
As an added note of interest, 99.997% of human adults find it impossible to successfully pronounce bamlanivimab, so it is pronounced like "bam-luh-NI-vi-mab".
About Dr. Aliabadi
As one of the nation's leading OB/GYNs, Dr. Thaïs Aliabadi offers the very best in gynecology and obstetrics care, including telehealth appointments. Together with her warm professional team, Dr. Aliabadi supports women through all phases of life. She creates a special one-on-one relationship between patient and doctor.
We invite you to establish care with Dr. Aliabadi. Please click here to make an appointment or call us at (844) 863-6700.
We take our patients' safety very seriously. Our facility's Covid-19 patient safety procedures exceed all CDC and World Health Organization recommendations. Masks are required in our office at all times during the coronavirus pandemic.
The practice of Dr. Thais Aliabadi and the Outpatient Hysterectomy Center is conveniently located to patients throughout Southern California and the Los Angeles area. We are near Beverly Hills, West Hollywood, Santa Monica, West Los Angeles, Culver City, Hollywood, Venice, Marina del Rey, Malibu, Manhattan Beach, and Downtown Los Angeles.

Latest posts by Dr. Thaïs Aliabadi
(see all)